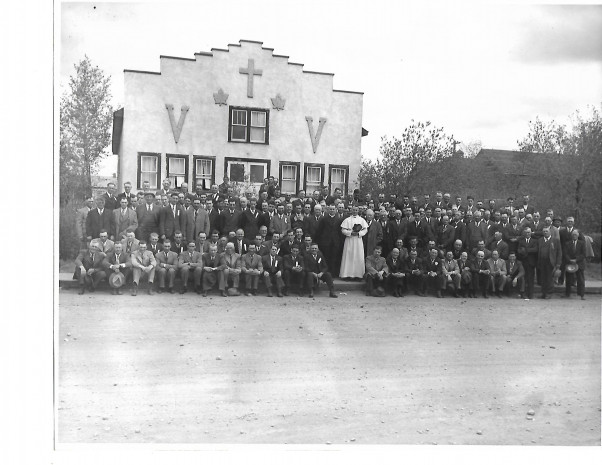 Knights of Columbus, Swift Current Council 3031 - History
In March, 1945 a young Catholic priest, Reverend Lionel Mondor, of Willow Bunch arrived in Swift Current to perform the duties of Assistant pastor to Father Cabanel at Sacred Heart Parish. While in Willow Bunch Father Mondor had accepted the principles of our Order, being initiated at Plentywood, Montana in November of 1939. Father Mondor foresaw the need of organizing the men in the Parish of Swift Current into the Order and eventually forming a council here. During these early years there was not sufficient members to institute a council in Swift Current.
As there were a number of Catholic gentlemen in our Parish that had been initiated into the Knights from other councils, Father Mondor saw a need to recruit more Catholic men into the ranks so that Swift Current could one day have their own council. From early 1945 to March of 1947 initiations were held in Moose Jaw. As more initiations were held and the number of new members joining in Swift Current, it quickly became evident that there were enough members to request the Knights of Columbus foundation to institute a new council.
On March 23, 1947 the day had come that Swift Current had been granted council status as K of C Council No. 3031. The first council consisted of:
Chaplain - Rev. L. Mondor, Grand Knight - S.R. Polley; Deputy Grand Knight - J. White; Chancellor - L. Corrigan; Recorder - N.E. Cowan; Financial Secretary - A.S. Ushey; Treasurer - M.C. Healy; Lecturer - S. Marzek; Advocate - R.J. Tetlow; Warden - H. Selinger; Inside Guard - J.J. Ftichar; Outside Guard - M.R. Larochelle; Trustees - F.C. Eady, A.A. Toupin, A. Castagner.
Over the years, since our early beginnings there has been numerous changes in our Council. Numbers have at times grown and today we are now in a bit of down trend. The Council of 3031 would like to see our numbers once again increase, which means recruiting new members into the 1st Degree and then initiation into the 2nd and 3rd Degrees (Major Degree).
So today we are asking all young Catholic gentlemen 18 years of age and over to join us, Knights of Columbus Council 3031. Contact Gord at the number at the top of this page.