Feed the Children Breakfast Program
Swift Current K of C has been assisting with the Elementary Schools Breakfast Program for a number of years. The "Garden Patch" project that we have been initiating over the years has provided money from the sales of potatoes and vegetables. The money that is collected from sales is given to the elementary schools and Maverick school to assist with the Breakfast Program.
The 2019/2020 year was impacted due to Covid-19, therefore 2019 proceeds ($1,900) were added to 2020 proceeds ($2,660). We also received a grant from the Saskatchewan Knights of Columbus Charitable Foundation of ($1,500) brining our total to $5,560 donated to the 6 city elementary schools as well as Maverick school.
Our local K of C Council would like to thank all member Knights and others that have donated their time and talents to this very important project. We would also like to thank all the schools for their cards and letters of thanks.
God Bless and Merry Christmas from Swift Current Knights of Columbus.
COATS FOR KIDS UPDATE
The Swift Current Knights of Columbus has completed its' distribution of coats to all the schools in the city. Our Swift Current Council purchases coats through K of C Program and distributes them locally. Below is a short overview of the general program.
This K of C program provides warmth for children in need during cold winter months. The goal of the Coats for Kids program is to ensure that no child in North America goes without a coat during the winter season. Through the dedication of councils across the United States and Canada, hundreds of thousands of new winter coats have been distributed to children since program inception.

December 11, 2020; K of C members Father Thomas and Wayne Johnston present All Saints School principal Lenni Zanidean with winter coats to be given out to those in need under the Coats for Kids program.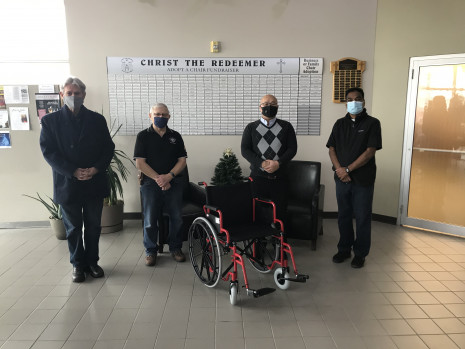 December 11, 2020; K of C members Wayne Johnston and Gord Hagen present Father Thomas and Father Anthony with a wheel chair for the Church at Christ the Redeemer. The wheel chair will remain in the south entrance foyer for anyone that may require a wheel chair while attending Mass or other services.
December 11, 2020; Christ the Redeemer Social Justice (S. J.) Committee every year gather food for hampers at Christmas for those in need. S. J. hamper coordinator Michelle Merkel and a group of volunteers collect and box all the groceries which are delivered by the Knights of Columbus during the third week of December. Many thanks to all those who donate food items, package and box and deliver the hampers.