Development and Peace, "Recovering Together"
Please follow this link to donate to D & P initiative to help our brothers and sisters in the Global South.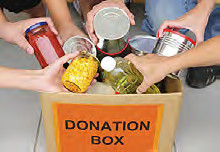 Taking many things into account given the Covid-19 crisis, we will continue to accept donations for hampers, but instead of assembling hampers as we have in the past, we will fill the needs of families as they present themselves now and in coming months. Please consider how to assist seniors with their needs; grocery shopping and phone calls could be so welcome at this time.